Since 2006, each year our volunteers have distributed an average of 65,000 pounds of free, local produce.
Field to Families' goal is to alleviate hunger in the Tri-County area by harvesting, collecting, growing, and distributing local produce to a network of service agencies and programs.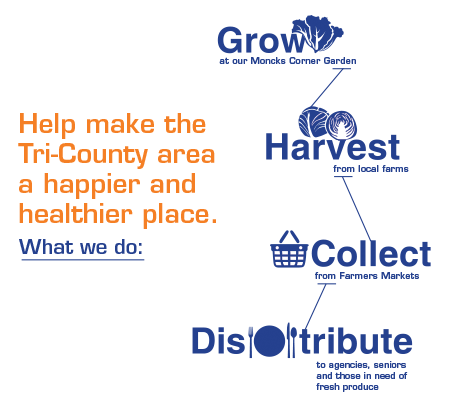 Established in 2011, Fields to Familes' garden is located in Moncks Corner, thanks to a generous donor. The garden continues to grow each year. The format is both raised beds, which allows for easy maintenance of weeds and less potential damage with weather elements, and a new tilled area to increase crop yield. Plans for a shelter and greenhouse are underway!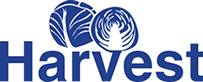 Harvesting occurs at farms in the Lowcountry. Farmers communicate when there is an excess in fields and volunteers come out to glean/harvest. There are a variety of reasons that leftover produce does not get harvested. Sometimes produce is left behind because it has developed cosmetic blemishes or it has grown too large for its packaging. Other reasons include overproduction and dwindling market price.
According to the USDA, an estimated 25 – 30 percent of all food crops are left in the fields after harvest. When Fields to Families was established in 2006, they began to "rescue" these fruits and vegetables from being plowed under, reducing food waste and lowering the carbon footprint.

Generous farmers and local farmers markets help Fields to Families' reach poundage goals from fresh produce donations. Bins are distributed at markets and poundage from each farmer is tallied. Volunteers then donate to our network of partners

We Deliver. To carry out their mission, they grow, harvest, collect, and distribute to local partners. Food is grown at their garden in Moncks Corner, which has tripled output in the last two years. Farmers communicate when there is an excess in fields and volunteers come out to glean/harvest.
Fields to Families was established in 2006 with the vision of Jacki Baer and her mission to provide healthy food options to the food insecure in Charleston, South Carolina. She began working with a handful of farmers and distributed to a few local pantries and soup kitchens which grew to a large network of volunteers who grow, harvest, collect, and distribute produce donations in Charleston, Dorchester, and Berkeley counties.
Fields to Families' success is measured in pounds and testimonials.
According to Feeding America, one in six South Carolinians is food insecure. The demand for fresh produce for low income individuals is largely unmet. Fresh produce at food pantries and soup kitchens is a challenge from a logistical standpoint – including preservation such as refrigeration and transportation – or, cost ineffective for many serving this population. In turn, these locations provide longer shelf life items filling some need, but often at the cost of less substantive or nutritive options.
At the South Carolina Food Access Summit, Feeding America reported, "Produce is one of our most promising opportunities." Significant uncaptured produce exists today nationwide. Fields to Families leverages what's available to help make the community a better place.